Freedom in the mind, strength in the words, pureness in our blood, pride in our souls, zeal in our hearts, letís salute our India on Republic Day. Happy Republic Day 2021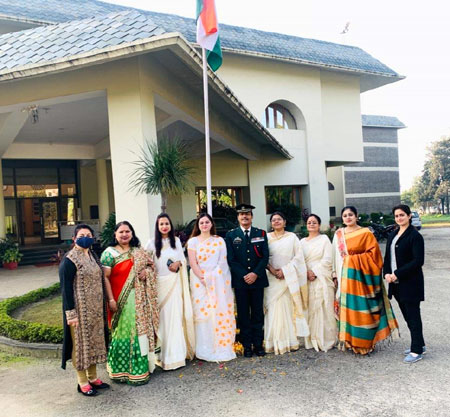 KC International School celebrated 72nd Republic Day with great ardour and zeal. The grand celebration was organised through the platform of Google Meet under the supervision of the school Activity Coordinator, Ms. Rajni Malhotra. The celebration was a sum of different events wherein, students participated with great passion. They were excited to be a part of such an auspicious occasion and showcased their love for the nation. The students actively participated in the events comprising- Yoga, dance, music and art. The students from Grade Pre-Primary to VIII performed the yoga under the guidance of Ms. Lata Chib and Ms. Komal Gupta. Dance event was handled Ms. Rupali Rai and Mr. Vikas Paudwal, music by Mr. Michael and Mr. Amit Singh and the art activity was supervised by Ms. Meenakshi, Ms. Meenakshi Sharma and Ms. Priyanka Deol. Principal KCIS, Ms. Anupama Sinha along with Dean Academics, Ms. Arti Sharma; Head Mistress, Ms. Poonam Bhagat; Middle Wing Coordinator, Ms. Sonal Gupta and Pre-Primary Coordinator, Ms. Ameet Kour, also joined in for the grand commemoration and cherished the moments. They congratulated everyone on the occasion and appreciated their participation to make the event an eminent success. They also thanked the parents for the unconditional support and consent faith.

The grandeur of the Republic Day is incomplete without paying respect to the tricolour. Principal KCIS, Ms. Anupama Sinha hoisted the national flag in the school premises. All the department heads graced the occasion with their presence.