KCIS organized 'EUPHORIA' 2021-22 for Teachers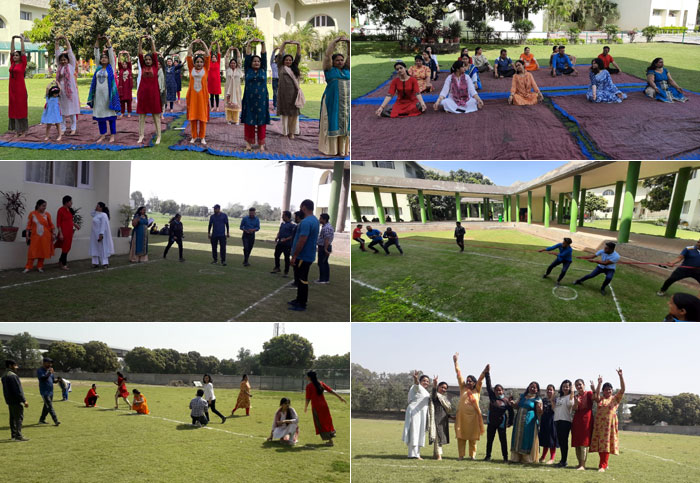 Don't workout because you think you 'need' to, do it because your body deserves love, respect and healthy attentionóDemi Lovato

The Fit India Movement is a national movement initiated to motivate everyone to walk on the path of fitness and wellness. It aims to provide a unique and thrilling opportunity towards making India healthier by including physical activities and sports in the daily lives of people.
As a part of the Fit India Movement, KCIS organised Euphoria 2021-22 on 29th and 30th of March.On the celebration of the occasion a two days sports and cultural event was held for all the faculty members.

The day one was started with the union of soul,mind and body ( yoga asanas) by our Yoga instructor Ms.Komal . After doing yoga for half an hour, teachers did aerobics which was led by Ms .Rishu Sharma.
All the teachers were made to sit and relaxed for 15 minutes,then segregated into different groups according to the sports they choose.Activity Coordinator Ms.Rajni Malhotra instructed all the teachers to move on to the respective venues/fields🏑 accordingly.

Teachers played games like kho-kho ( Coach Mr.Adonis and Mr.Rajesh Singh) , badminton ( coach - Mr.Ramlal ),Petanque ( Coach Mr.Tarsem Sharma and Bhuvnesh Sharma) and in the end there was a competition between two teams and they had 'tug of war'( Coach Mr.Vikas Paudwal and Mr Michael). During the whole event the teachers were very sporty, energetic and enthusiastic.Each sport was played with full zeal and spirit of winning.The winners of the various sports were given certificate of appreciation.

The credit of the successful conduction of the whole Sports event goes to the Activity coordinator Ms Rajni Malhotra and her team.Principal KCIS Mrs.Anupama Sinha appreciated the way her idea was executed .