Ms Vansheen Koul selected for final round of READ INDIA CELEBRATION ( INTERNATIONAL)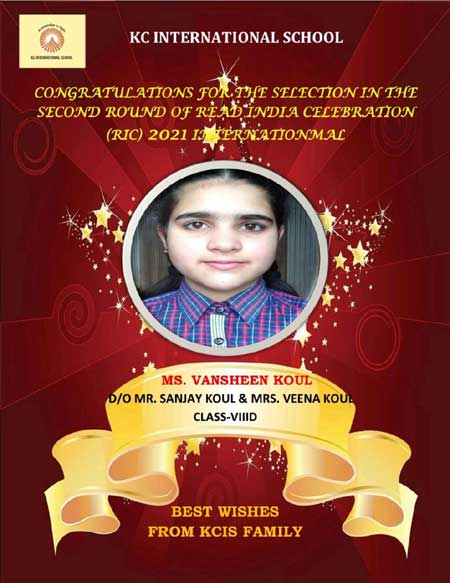 The more that you read, the more things you will know.The more that you learn, the more places you will go. Dr Suess'

KCIS feel honored to announce that one of its students Ms.Vansheen Koul of class 8thD, who took part in *READ INDIA CELEBRATION ( INTERNATIONAL)* has cleared her 2nd round also and now selected for *final round.* Its pride to announce that only KCIS has been qualified from J&k for this Competition . So its really a very big achievement.

A big thanks to the Middle Wing English Teacher- Ms. Seema Bali preparing her for the event and her class teacher- Ms. Sonali Gupta who motivated her to participate in this competition.

A big congratulations to the Middle Wing teachers and their Coordinator; Ms.Sonal Gupta, all heads and above all a big congratulations to KCIS Principal - Ms Anupama Sinha, under her guidance KCIS is shining like a big star.