KCIS hosted its 12thAnnual Sports Day with fervor and excitement experienced amidst great mirth, verve and camaraderie. The morning of 17th February presented a wonderful sight of KCIS, with the sporting arena – the ground, magnificently decorated, the tracks gaping with wonder, patiently waiting for the sprinters to stamp their authority, and of course, the individuals sweating it out in the last minute preparations, leaving no stone unturned to ensure a flawless gala event.It was a fun filled fest of laughter, energy and delight as Kcites presented and participated in various activities under the eager eyes of parents, Director General of Police (Prisons) Dilbagh Singh who had presided over the event as the Chief Guest. Vice Chairman, MrChaitanyaChowdhary, Principal Mr. SubhenduSarkar, Vice Principal andthe Headmistress, also graced the occasion.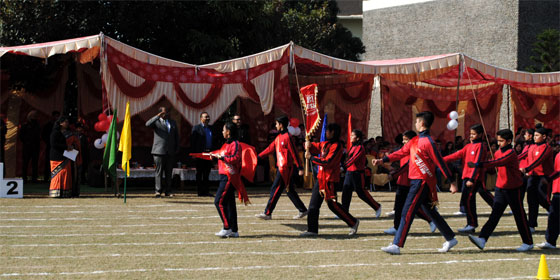 The day started off with the lovely floral felicitation accorded to the guests by the Principal followed by a spectacular and a well synchronized March Past by the four Houses contingents offering the Guard of Honour to Mr. Dilbagh Singh, the Chief Guest. Thereafter, the Activity CoordinatorMrs. RajniMalhotraadministered oath to students to participate in the sports day with true sportsman spirit. This was entailed by the lighting of the 'Presidency Torch' followed by a mesmerizing music performance of the school choir. Another highlight of the day was the releasing of balloons and a pigeon, a heartfelt dedication to the desire of peace. The audience next witnessed an energizing exercise drill by Class IV & V which set the tone for the rest of the event. Further the budding sports stars participated in their respective races with full verve and vigor.It was a delight to see the excitement with which children challenged themselves to attempt variety of fun races and track and field events.
The event was marked by a string of thrilling dance performances presented by the students who were brimming with enthusiasm and sportsmanship. This sports day added another plume to cap of KCIS as the Kcites presented the Martial Arts and increased onlookers' excitement ten folds. The Chief Guest, DGPDilbagh Singh in his address was superlative in his praise for the March past done by Kcites. He lauded the energy zest and vitality of students presenting the Field Displays. TheEmeralledHouse wad adjudged best in the March Past and won the Cock House Trophy. The vote of thanks was proposed by the Headmistress of the School, MrsNidhiBhonsale. The lit flame was put off with the Beating of the Retreat and the meet saw its culmination with the National Anthem. The eventorganized by Sports Deptt ended leaving behind the memory of the outstanding display of athletics shown by the students of KCIS.