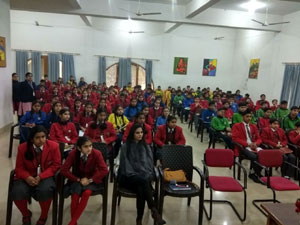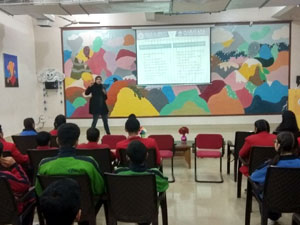 On 23rd of January ,2018 Ms. Isha, a member of Narayana Academy, (i.e one of the best Institutes of India), came to our KC International School. She explained the students about success, Goals , Vision, Interests , Potential and hard work. She asked the students which career they wanted to pursue. She told them about the various fields which they could choose and take inspirations from their relatives and parents.
First of all , she started by asking questions to students like:
What do you want to do in your life ?
How will you do that that ?
Which career do you think is the best ?
How do you spend your day ?
• She told them about career foundation facts , study habits , core potential , personalized career, guidance individual strength and weakness , Recommended stream with subject guidance.
• She focused on self – management of a child.
• She told them about success mantra of famous personalities and successful people.
• She told them about difference between pattern of board exams and competitive exams.
• About importance of family and leisure time .
• About comparison of the routines of an excellent, good and average students during regular classes and exam days.
• About importance of proper training, coaching and guidance .
• About Ideal mentoring cycle.
• At last , an objective based question test was conducted for all the students.