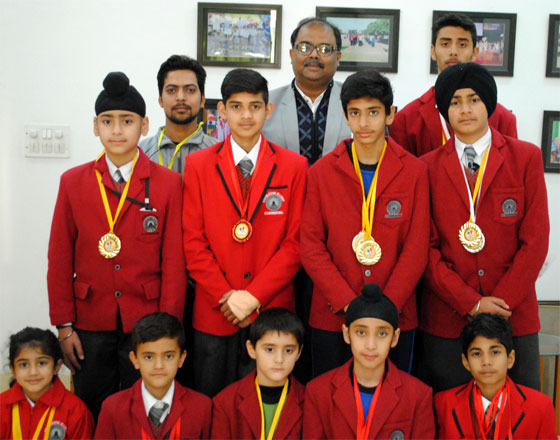 A Roller Skating State Championship was held at Peerkhoo from 22nd to 25th December, 2017 at Shiva Roller Skating Institute in which students of KCIS won 12 Gold ,4 Silver and 13 Bronze medals. Following are the medal winners:
Zainab Sheikh-2 Gold medals
Dharun Sharma-3 Bronze medals
Devyansh kapoor-2Gold medals
Kamya Gupta-3Gold medals
Angad Singh-3Gold medals
Akarshit Mansotra-4Bronze
Dhruv Gandotra -3 Gold&1 Bronze medal
Vanshaj Sharma-3Silver&1Bronze medal
Saksham kharvanda-1 Bronze
Rajveer Singh -1Gold&1Silver medal
Damanveer singh-1 Gold medal
Coach, Mr. Rajiv Kalotra also outshined by winning a Silver medal in Senior Inline Hockey category. Principal Mr.Subhendu Sarkar congratulated the winners and the coach for their outstanding performance.