"There is nothing like returning to a place that remains unchanged to find the ways in which you yourself have altered" ------------ Nelson Mandela
K C International School welcomed its alumni students at the first Alumni Meet on a landmark occasion for KCIS which completes 13 years of its foundation. More than 50 Alumni from far off distances attended the grand function when they once again returned to their Alma Mater and relived the many distinct memories that they had built together. Everyinstitution traces its success to those who graduate from its portals.
An account of KCIS's legacy would have been incomplete unless the achievements made by the Alumni that form the backbone of this institution are chronicled. The Alumni Batch leaders lighted the traditional lamp to bring in good luck to their School.
Vice Chairman Mr. Chaitanya Chowdhary was the Chief Guest for the occasion. The event started with Principal Mrs Maya Mishra's welcome address, whose efforts brought this Alumni Meet come to a fruition. It was a great moment of pride for the KCIS family to have its students on the campus for the first time & sharing their experiences with their ex-teachers.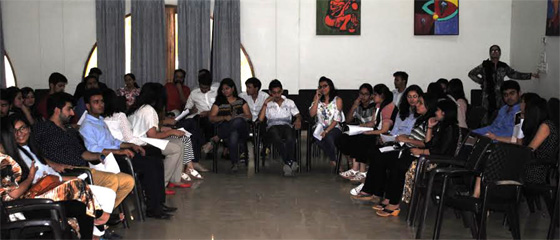 The highlight of the programme was launching of the Signature tune.Many Alumnis spoke about their School lives. A special slide show was made for this occasion for a trip down memory lane.Mrs Lovely Bazaz andTarsem Sharma also spoke on the occasion And expressed their happiness and showered their blessings.Activity Coordinator MrsRajniMalhotra also expressed her views that an institution not only teaches the students but also it's a learning process for a true teacher too.A feed back was also collectedfrom Alumni regarding the organizational aspects of the meet and their suggestionsfor improvement.Lunch was also served .Vote of thanks was delivered by Vice Principal MrsAnupamaSinha.The programme was anchored by Head Boy MrSiddhantSekhri and Head Girl Ms Yatiksha Rao.
Everyone departed with a resolve to visit again and spread the message amongst all who could not visit this time.
A committee was framed for which Mr. Danish Farooq Dar was elected as President, Mr. Eric Pal Singh as Vice President, Vivek Bhagat as Secretary, and Anirudh Sawhney and Kumud Goel as an Executive Members. Ms Rajni Malhotra would be the Convenor and Mrs Saloni would be the Co Convenor.