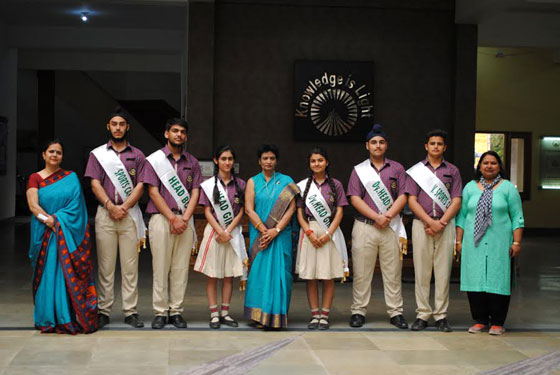 "Leaders are not born but are made by their experiences in life." To inculcate leadership qualities in students and to give them a feel of functioning of the administrative body, a school cabinet was formed at K C International School. The investiture ceremony was held on April 29, 2017 at KCIS Acres. MrsSarojMahajan, the Senior Vice Chairperson of the school was the chief guest of this solemn occasion. Principal Mrs. Maya Mishra felicitated the chief guest with a bouquet of flowers. Chairman, MrVinayMahajan and Vice Chairman, MrChaitanyaChowdhary sent their best wishes to the newly elected student Council.Ceremony commenced with the BSF Band being played in the background. To start with a bhangra was performed by the students to entertain the audience. Then the environment resonated with the bold and confident command delivered by the Head Boy, SidhantSekri to start the march past. The feet of the students started marching on the band beats provided by the BSF Band followed by all the four houses –Sapphire House, Ruby House, Topaz House and Emerald House. Then the sashes and badges were given away to the children by the chief guest. The students proudly took oath from the revered Principal, Mrs Maya Mishra.
Sidhant Sekri is elected Head Boy and Yatiksha Rao as Head Girl from the senior school. Kr Harshwardhan Singh Rana is elected as Head Boy and Dhriti Gupta is elected as Head Girl from the Primary Wing.
All the dignitaries and parents present on the occasion blessed the student council and wished them the best of luck intheir coming endeavour.
The vote of thanks was presented by Vice Principal, Mrs. AnupamaSinha. The programme concluded with the national Anthem.
The entire event was coordinated by the activity co-ordinator Mrs Rajni Malhotra.