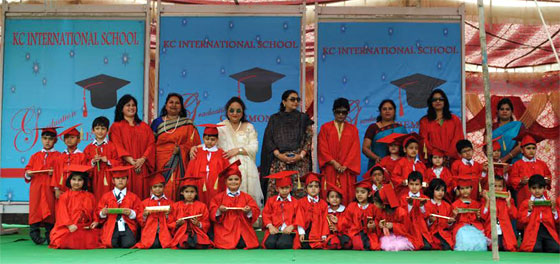 Graduation ceremony was hosted at KCIS Acres for the students of GradeV and kindergarten on March 25,2017.
The ceremony was graced by Mrs.SarojMahajan, Vice Chairperson, Mr. ChaitanyaChowdhary, Vice Chairman ,Dr.ShikhaChowdhary, Member Management and Principal, Mrs.Maya Mishra.
The ceremony began with the lighting of lamp by the dignitaries followed by a song in English sung by the students. Then started the portrayal of the journey of a young child who enters KCIS Superkids -The kindergarten wing of the school. This was portrayed through Metamorphosis of a caterpillar turning into beautiful butterfly.
Later on the students portrayed different song and dance items related to a student life. In the concluding part, they beautifully portrayed the aim and ambitions of a child.
All the kindergarteners and Grade Vchildren were awarded with a scroll for graduating to different classes.
Headmistress, Mrs.Kesar Patel presented the vote of thanks.