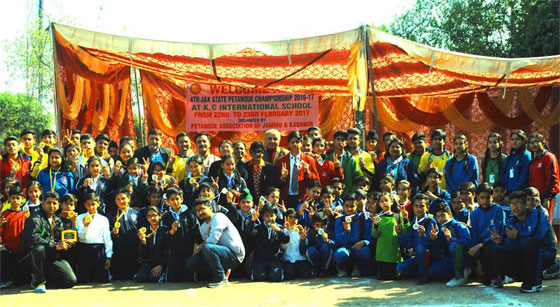 Petanque is the national game of France. It is being promoted in India on a large scale. There are many benefits of playing this game. The first being, it brings calmness and harmony . An individual has to think and then aim to score the point.
The 4th J&K state Petanque championship was organized at KC International School on 22nd and 23rd Feb, 2017 under the aegis of Patenque Association of J&K. Over all four school participated-DPS Jammu, JK Public School Kathua, Sainik Cooperative School Udhampur and KC International.
Mr. S.P Varma, Padamshree awardee and chairman of Gandhi Global Family, Youth Hostel Association of India was chief guest on the occasion. Mr. ShujaZaffar, President Super 7 Cricket Association of J&K was the guest of honour.
Mr. Tarsem Sharma, Organiser Secretary had organized the tournament, Mrs. AnupamaSinha Vice Principal and Mrs. RajniMalhotra, Activity Coordinator was present on the occasion.
The Principal Mrs Maya Mishra Presented the vote of thanks.