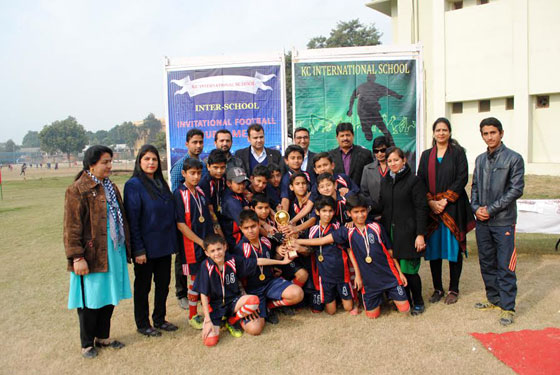 KCIS hosted an Invitational Football Tournament, where six schools of the city participated. The tournament's aim was to use sports to foster friendship among the youth of the city. All the teams competed well and displayed their outstanding performances.
The tournament was bestowed by the Chief Guest, Mr Narender Gupta, former member of J&K Sports Council, member of J&K Football Association, Chairman of three football Clubs, Vice Chairman, ChaitanyaChowdhary, Principal Ms Maya Mishra, Headmistress MsKesar Patel and the parents.
On the first day, the matches were played under Pool A and Pool B categories where Jodhamal Public School and KCIS qualified for the finals.
The match started with a tough competition, but soon KCIS got a penalty shoot-out and they scored their first goal. Then started the run for the win as Jodhamal was still at zero. After a tough battle between the two teams KCIS emerged the winner as Jodhamal was not able to score any goal. The last few minutes of the game were nail biting when Jodhamal was able to grab a penalty kick, but the goalkeeper of KCIS well defended and prevented a goal.
Mementos were presented to MrNarender Gupta, MrChetan Sharma and MrNarender Singh who were the guests for the day. The pro Raiders Football Club was a success due to the continuous support of the parents who came to coach the students. Mementos were presented to the parents also for their continuous and unflinching support.
To cheer the team and wish them luck, Principal Ms Maya Mishra sported the same jersey which team KCIS was wearing while participating in the tournament.
The team members Captain-RudishSalathia, Monik Khan, FaizaanChowdhary, SuryanshChowdhary, Praful Singh, Aniket Singh, ShivamJandyal, AaravBhari, Manik Gupta, Rudraksh Sharma, PranavSalotra, SubalSyal, NamanModi, KritarthSuri and goalkeeper AdityaManhas. Monik Khan was declared as the best player by scoring three goals during the tournament.
Principal, Maya Mishra presented the vote of thanks and appreciated the efforts of the coach Mr Rattan Singh and MrManjeet Singh, the teacher inchargeMsSonamManotra and the players.