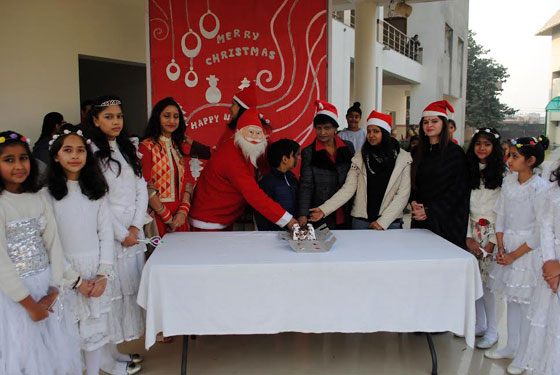 Christmas is the spirit of giving without a thought of getting!
KCIS celebrates a pre-Christmas celebration. The colourful morning began with a wonderful welcome song. Keeping the festive mood alive principal, Ms Maya Mishra put on a Christmas cap offered by a student.
An English play was enacted highlighting the spirit of Christmas and the birth and sacrifice of Jesus Christ for the sake of humanity. Children performed enthralling dances adding to the festive atmosphere. They emphasized the importance of caring, sharing and goodness all around. At the end, a staff member attired as Santa Claus attracted the attention of the students and distributed candies and gifts among them. The children also cut a Christmas cake.
A special assembly was organized by the students of Emerald House .The day started with invoking lord's blessing on all of us by lighting the candles followed by thought of the day on Christmas and a special talk was delivered by Coral Sharma on children's favourite – Santa Claus. A quiz on Christmas was also organized on the occasion and the children felt happy when Santa gave prizes and gifts to them.
Students sang Christmas carols and performed an enthralling dance adding to the festive atmosphere.
Ms. ShivaniMahajan spoke a talk on the topic Success that we must develop a positive outlook in our life as positive thinking and good efforts will lead to success and the key to success is self-confidence but we must work hard for it.
Ms. AnupamaSinha, the Vice Principal expressed her delight on seeing such enthusiasm in the children who brought the spirit of Christmas to life and also wished everyone a Merry Christmas and a Happy New Year.
SimranMalhotra got a prize from Vice Principal for conducting an excellent morning assembly.
Our Super Kids also came in the get up of Santa. They brought candies and distributed to their friends.
Ms Maya Mishra, the principal and headmistress, MrsKesar Patel expressed their delight on seeing such enthusiasm in the children who brought the spirit of Christmas to life and wished everyone a merry Christmas.