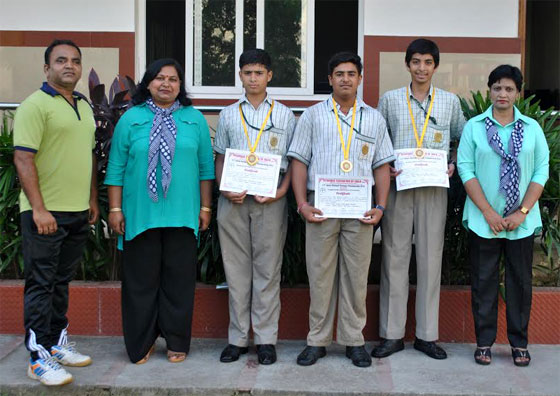 The Students of KC International School,Jammu participated in 11th Junior National PetanqueChampionship held at Haridwar from 9th Sep,2016 to 11th Sep,2016.Petanque is the National game of France.It is played with metallic balls. The participants have to exhibit patience and diligence to pursue the game.
As it is rightly quoted in a Chinese proverb that one bulls eye is the result of 100 misses.The students of KCIS had dedicated many hours of practice and ameliorate their game to hit the bull's eye ,atHaridwar.The students made everyone proud by clinching,the national title.
The final match of Petanque Championship was played between Jammu & Kashmir and Maharashtra. The match was won by Jammu &Kashmir State and the students were Arkit Jain of Class VIII ,Mhd.Junaid Mir and KartavyaSehgalof Class IXrespectively.These students have been selected to represent India at the Asian Championship to be held in Singapore in the month of December.Overall sixteen states had participated in the National Championship.
Petanque has now been recognized and will be included in Asian Beach Games,Asian games, Olympics and Common Wealth Games.
Vice Chairman, Mr.ChaitanyaChowdhary and Principal, Mrs. Maya Mishra congratulated the coach Mr.Tarsem Sharma for training the students. She also gave special thanks to the Parents for promoting the spirit of sports among their children.Activity Co-ordinator, Mrs.RajniMalhotra also appreciated the efforts of the team.