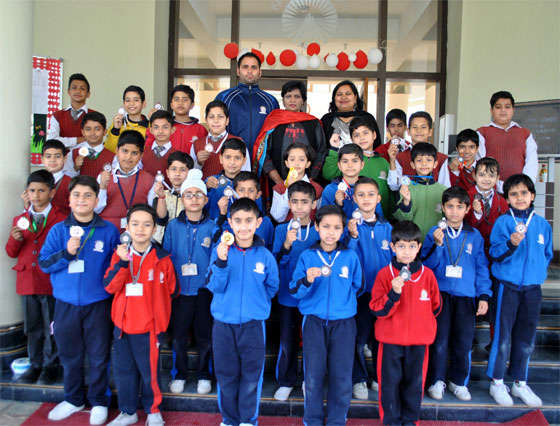 Students of KC International School brought laurels to the School by winning 33 medals including 5 Gold, 6 Silver and 22 Bronze medals in J&K State Judo Championship, recently held in M.A. Stadium.
Gold medal winners are:
Harsh Vardhan, RuhaanNagpal, AryaBandral, EshaanSaini, SuvanshMahajan
Silver medal winners are:
Saransh, ArushMahajan, Udhav Gupta, Aryan, Pratham Singh, Pratham Singh, Prabsharan Singh
Bronze medal winners are:
Vihan Gupta, Rijul, Paras, Pranav, Dhriti Gupta, MiraleMalhotra, Samarpan , ApoorvSaiBisht, AryaVansh, Nityam Sharma, UrvanshikaKotwal, ArushBhat, AdityaChohan, Pranvi Rajput, Arihant, NamishDhar, Arnav Sharma, Paras Sharma, AbhayJamwal, Akshit Gupta, Sehar Khan, RajyaVardhan.
Management and Principal, Mrs. Maya Mishra lauded the efforts made by Coach, Mr. Rajesh Singh.