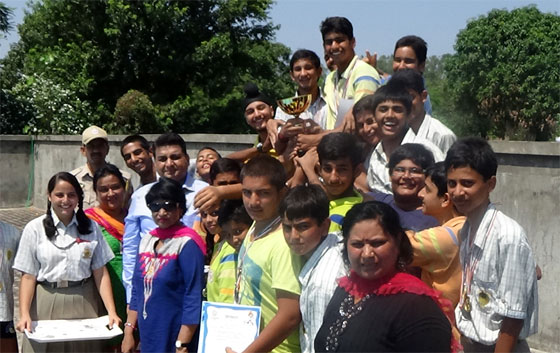 The water is your friend ….You don't have to fight with water
Just share the same spirit as the water and it will help you to move.
KC International School hosted an Inter School Swimming Competition on 28 Aug, 2015. The Chief Guest Mr. Rajinder Gupta showed his gracious presence during the event. The atmosphere was filled with excitement. More than 13 schools participated in the event.
The participants took part in various events with gusto and enthusiasm. Near about 150 students participated in categories like freestyle, 100/50 meter, breast stroke, back stroke, medley 50 meters, relay etc. in all age group categories. All the events were played under three categories under 12 and 15 (boys), under 14(girls).
The Principal Ms. Maya Mishra declared the event open by the clapper to the first event of the day.
The results of the competition are as follow:
I K.C International School - Winner
II Jodhamal Public School – Runner up
With the declaration of results, the certificates were awarded to the winners by the Chief Guest Mr. Rajinder Gupta and Principal Ms. Maya Mishra. The event was organized by CBSE Sahodaya Complex Jammu. The Chief Guest congratulated the winners and appreciated the management for taking an initiative to organize such an event.
The inspiring speech of our principal Ms. Maya Mishra boosted up the morale of all the participants. A special thanks was given to the swimming coaches – Rajesh, Ankita & Activity Coordinator, Mrs. Rajni Malhotra. Headmistress Mrs. Kesar Patel and Middle School Coordinator Mrs Randeep Wazir were also present.
The event was concluded with the vote of thanks by the principal Ms. Maya Mishra.