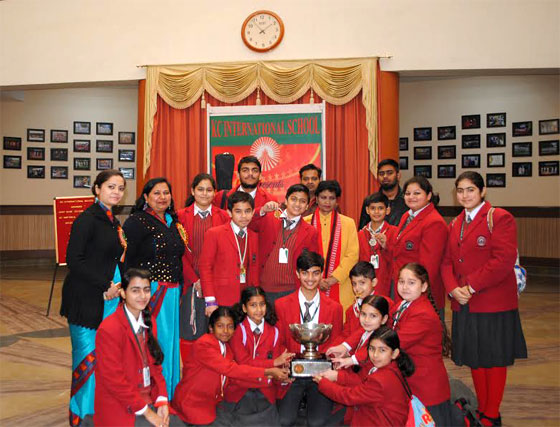 MUSIC SPEAKS WHAT CANNOT BE EXPRESSED,
SOOTHES THE MIND AND GIVES it REST,
HEALS THE HEART AND MAKES IT WHOLE,
FLOWS FROM Heaven to the Soul
Music is an art, entertainment, pleasure and medicine for the soul and body. It is intrinsic to all the cultures and has surprising benefits not only for learning language, improving memory and focusing attention but also for physical co-ordination and development. To expose the children to music, K.C International School hosted 11th Inter School Music Competition – Sur Sangam on 17th Dec, 2016 in which ten reputed schools of Jammu participated. Ms. Anjali Sharma, Director Doordarshan was the Chief Guest. Vice Chairman Mr. ChaitanyaChowdharywas also present on the occasion.
The categories for the competition were Junior(English Songs), Senior (Hindi Songs) and Solo (Regional)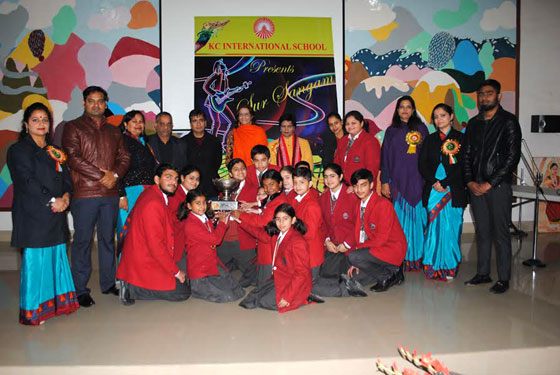 The program started with the lighting of the lamp followed by a welcome dance. The event was adjudged by the two eminent personalities of Jammu Mr. Harish Kaila and Mr. KuldeepSaproo. The hall was filled with children brimming with enthusiasm and eagerness to showcase their talent. The students prepared well for the competition and a wide range of songs were presented by them.
The results of the competition are:
(a) Junior Category

(i) KC International School - 1st
(ii) Heritage School - 2nd
(iii) Presentation Convent - 3rd

(b) Senior Category

(i) Heritage School – 1st
(ii) KC International School - 2nd
(iii) APS BD Bari - 3rd

(c) Solo Category

(i) APS Nagrota - 1st
(ii) KCIS & Presentation Convent – 2nd
(iii) Heritage School - 3rd

(d) Overall Winner of Championship Trophy – KC International School

(e) Runner Up – Heritage School
The Musical Day concluded with the vote of thanks by the Principal, Ms. Maya Mishra, appreciating the efforts put in by the staff and students of different schools in making this event a grand success. She also appreciated the efforts of music teachers – Ms.MamtaKalotra, Mr. Michael and Mr. Amit Singh.The event was organized by Mrs. RajniMalhotra, Activity Coordinator.